Midwest Kids: An Interview with Designer and Creative Darryl Brown
The Midwest has produced many talents that have transcended our culture through music, fashion, and sports. With names such as Kanye West, Virgil Abloh, LeBron James, and Kid Cudi all hailing from Midwest cities, it is safe to say that there is no shortage of creative energies coming from that region. Darryl Brown is another name that is soon to be added to that already impressive list of Midwest Creatives. Hailing from the city of Toledo, Ohio- Brown has worked in the railroad industry, as a stylist, as a personal assistant, and as a designer steering the ship of two different labels. Brown has used all of his experiences to build his namesake label- Darryl Brown, and his more recent project-Midwest Kids. While the lines are different in essence, both have different feelings and emotions tied into them.
We recently caught up with Brown at his "Midwest Kids" pop-up in Columbus at a local boutique- Madison USA- this past month to get a further perspective into the design ethos of both Darryl Brown and Midwest Kids. Be sure to check out the full interview below.
First off, for the people that might not know you, give them the quick rundown of who Darryl Brown Is.
"My name is Darryl Brown, I'm 33 years old originally from Toledo, Ohio I transplanted to New York where I lived there for about 10 years and then from there I moved to LA and I've been in LA since. I'm a Fashion designer, Stylist, and just an overall creative."
With working on so many projects whether it be your brands, styling, or just traveling in general what is a day in the life of Darryl Brown like? Any routines or Rituals?
"A day for me is pretty chill honestly, I'm constantly on my phone, checking emails or looking at imagery. I'm a visual person I love mood boards and getting pictures and a vibe together. If I'm not running around shopping, sourcing, or looking for vintage I'm kicking it at the house. I guess you can say I'm like an introvert, I don't really go out and party. I love movies, I'm a movie head so I'm constantly watching every 90's movie and pulling inspiration and feeding it into my brands, with new ideas. I also really enjoy architecture and stuff like that."
From a Railroad Worker to Stylist to Brand Owner/Creative Director/ Designer- how did that all unfold and turn into what you've become today?
"When I came back from college I was like any other kid asking myself "What do I want to do with my life?" My parents were on me telling me to find a job. I was going to temp agencies working a bunch of different odd 9-5 factory jobs while trying to figure it all out... I ended up getting hired by the railroad in Toledo and worked there for 3 years. I was living life and making good money. I bought a new car and an apartment for myself.
During this time a new streetwear boutique opened called NEX Clothing Co.
A good friend of mine named Zach who was the owner of the shop brought me on as a buyer and help him create the vibes. We were one of the first people to bring Big Sean to Ohio. I remember booking Wiz, MGK, and Fly U (2008-09).
At the Wiz Khalifa show, Machine Gun Kelly (MGK) complimented my style. I told him I was a stylist and next thing I knew MGK was my first real client (S/O Ash). He had a show with Kid Cudi in Cleveland and I hit up Rocksmith since I already had the connection from NEX and asked if they could send me some clothes to put MGK in for the show. I was expecting a huge box but only received like two shirts, one of the shirts was the explicit content tank top that he wore with some dickies shorts and chuck taylors. The performance went viral as well as the outfit and Rocksmith loved it. They told me if I ever moved to NYC they would have a job for me.
The girl I was dating at the time was in the process of moving back to New York. So I quit my job on the railroad and followed my dream of fashion. I ended up working with Rocksmith in New York for about 7 years.
At the time Kanye released a song called Real Friends, I really gravitated to that song because I was at a real low point in my life. I decided to drop a dad hat that said " Real Friends " in the font from the show Friends. The design took off and I made enough money to live off the hats for a little bit. During this time MGK was being styled professionally by a stylist that was a part of the Yeezy team. She needed someone to lend a hand for the Yeezy Season 3 fashion show at Madison Square Garden and MGK's manager mentioned me. A little while after I helped out with the show, I got a random phone call from Kanye's Stylist saying she was looking for a new assistant for Kanye. They wanted someone that could manage his wardrobe day to day. I went through a 2-day probationary process where I learned all my tasks and 3 days later I got a call that everything went perfect and we were going on tour. After the tour finished, I relocated from New York to Los Angeles to keep the job. For the next 3 years, I became his day to day wardrobe assistant, and helped with the vibes and references. This past Thanksgiving we had a mutual split which was perfect timing for the both of us to go our separate ways and grow.
I remember sitting at Thanksgiving last year and I was wearing my favorite Brown university sweater. This is when I got the idea to put Midwest Kids on my own hoodie in a similar style. I started releasing it in small quantities and I remember waking up the day after New Years to hundreds of notifications about LeBron James wearing a "Midwest Kids" hoodie. From that point on we filed to make it a legitimate business and that's how Midwest Kids became a thing. Midwest Kids is launching in Barneys Japan and Stores across the country later this year."
So you're working on two brands right now Midwest Kids & Darryl Brown. Gives some insight on the inspiration behind them and what you want people to take from them.
"Darryl Brown is my take on what most people would call workwear, which I know sounds trendy but collection one was to pay homage to my life before I moved to New York but at the same time capturing the quality and elegance feel to it. Darryl Brown is Dries meets Dickies. Midwest kids is something fun, more chill, and relaxed that everyone can be a part of. I eventually want to get Midwest kids involved in giving back to the community. The sky's the limit with Midwest Kids."
You recently had your first showroom this past January in Paris During Fashion Week. Tell us a little about that experience.
"It was crazy man. I really would not have been able to do it without my fiancé Anastasia Walker. She is a super creative stylist. She styles celebrity clients such as Courtney Love, G Eazy, T-Pain, as well some of your favorite ad campaigns. She's better than me when it comes to styling! She helps me run both brands and keeps me together. The showroom was pretty much all her. She helped me find this sick Airbnb penthouse we rented out for 12 days for the showroom. We had all of our closest friends help us in this process. My boy Jerreau who is pretty much my ghost art director for all things Darryl Brown helped me polish up my vision. We all basically mobbed out to Paris and brought it to life. Debuting my own collection was a mile marker for sure. I used to come to Paris and see other brands collections and to be there and see my own brand debut was an unreal experience. The reception the collection has received has been great. I am very appreciative to have my first collection launching in the way it is with no major showroom backing. We're planning on doing a huge launch this July for our first fall collection with Barneys Japan as well as my first look book and online store. But overall Paris was super sick, super crazy, and super stressful at the same time! I am focused and ready for what's next. I see a lot of people celebrate their wins too early. Sometimes you have to take a moment and realize how blessed you truly are. Tomorrow isn't promised and we sometimes ignore our present day blessings. We get so focused in our lives trying to find that instant gratification but we have to realize that the blessings are happening for us already. Being here in Columbus, doing a pop-up, and even sitting here talking to you guys is all a blessing"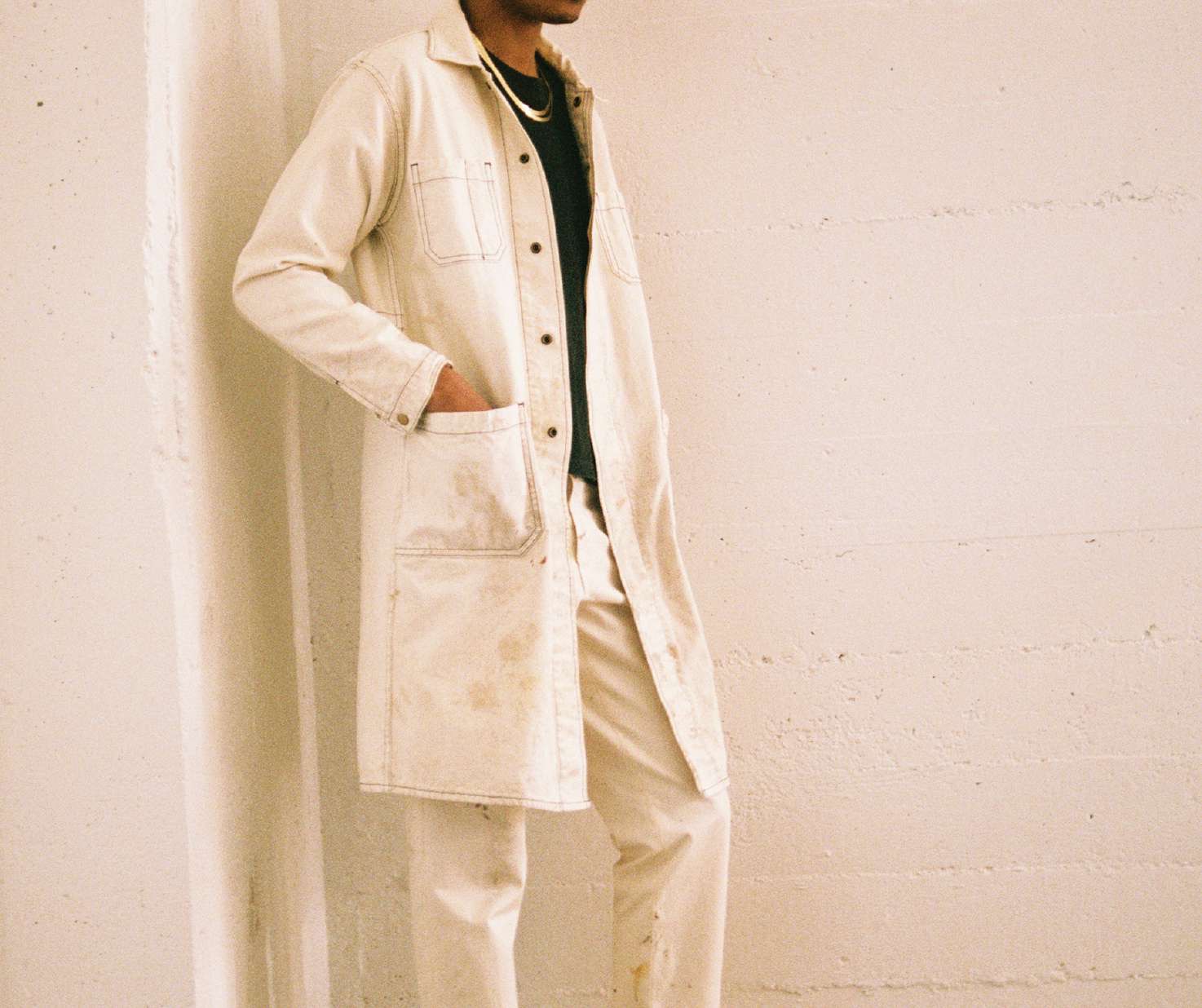 Your first collection from Darryl Brown will hit retailers this fall 2019 which has to be extremely exciting for you and your team. But with any new brand, you're going to run into some obstacles Designing, finding factories, sourcing fabrics sampling and the list goes on. What was the most difficult one for you to overcome?
"Nothing with Midwest Kids so far has been super difficult. Midwest Kids has been fun making. I have a great team helping me out. The only thing has been getting the products shipped faster. Darryl Brown being the bigger brand obviously has its ups and downs. One of the biggest obstacles I have faced has been the financials and investing my own money into creating it. That included the website, marketing, samples, and production but in the end, it all worked out. It's all about sticking with it. I could have packed up and gone home but through the graces of God it all worked out. Other than that, Darryl Brown has been fun as well. I know exactly where I want to take it. I'm 33 years old and I've been in fashion for about 13 years now. From first learning about fashion to running the NEX clothing store in Toledo; all of those small experiences have helped me get to where I am today."
We see it on your personal and brand Instagrams but what's going on with the Land Rovers?
"I love Range Rovers and Land Rovers. I never really cared about cars that much growing up but my aunt had a Range Rover and I have always been infatuated with them since. I drew a lot of inspiration from old Range Rovers when designing my collection. A lot of the videos I post of old Range Rovers and Land Rovers is me setting the tone of my first collection for my followers. Some people are catching on but even if they aren't it's also more so for myself. My goal if I ever become super rich is to collect a bunch of different Range Rovers. You see people collect all different models of expensive cars. My dream is to collect Range Rovers. I currently have a 2008 supercharged Range Rover in a Gunmetal grey color."
As some people might know you worked for hands on with Kanye West and as well as a member of the Yeezy Team. What was that like and what did you learn and what did you take and put into your own creative process.
"It was one of the most amazing experiences of my life. In those three years, I learned more about fashion than I ever have in my whole life. He is the first and only mentor I have ever had. It was the first time I really had anyone take their time to teach and explain while at the same time letting me be me 100%. It ultimately brought out me and who I am. I helped create a whole new look. Which was more so midwest and back to the roots. For me, it helped structure my brand and helped me be a leader. It prepared me for what to do and gave me the courage and inspiration I needed to execute."
What is some advice you would give to Midwest creatives?
"It's all about how bad you want something. You really can be and do anything you want no matter where you live. Look at Joe Fresh Goods for example. He never left Chicago. He has always been one of my favorite designers, creatives, and one of my biggest inspirations. You don't have to be in a major city like New York or LA. We have the power of the internet and social media now to get your name out anywhere and if you build it they will come. Surround yourself with people who support everything you do. It will help you grow your business and get it out there. Also, understand it's not going to happen overnight, so don't give up on it. You might have to work at a 9-5 job making no profit to invest in your ideas but that doesn't mean it's going to be like that forever. Everything is like a temporary season. When you feel stuck realize it won't be like that forever. It didn't matter I was coming all the way from Toledo Ohio. Like Nipsey Hussle said, "The marathon continues." I'm still chasing my dreams every day. If you have the skill, a great support system, you're working your hardest, and your heart is in the right place then good things will happen. If you want something bad enough who's to say what you can and can't do? Just stay true to yourself. One day you may have to take a leap that seems scary at the time. But you can't stay stagnant anywhere."