Our Favorite Trousers for Fall
Already thinking about what pants you're going to wear once it gets cooler and you're not covered in sweat as soon as you step foot outside? We can relate.
Worn casually, or just as easily dressed up, trousers have been a long-running menswear staple (there are other pants out there besides Acne denim) so expect to see check/cropped/wool/carrot/tapered/wide/etc. trousers everywhere as the layers come out of hiding, and the leaves start falling. We've put together a few of our favorite new pairs to keep in mind as you build out your fall wardrobe. Keep in mind, this list is more focused on the style of each trouser, rather than brand. You can achieve the same effect on the cheap if you look for similar pieces at a price point you can comfortably afford.
Dries, consistent as ever, sent plenty of check down the runway in his FW18 Mens collection showing that he's still the king of elevating classic, infinitely wearable silhouettes to the next level. The construction, color and sheer amount of detail in the pattern of these Prince of Wales trousers make this one of our top picks for fall trousers, with the brown + check combo being especially IN this season.
Prada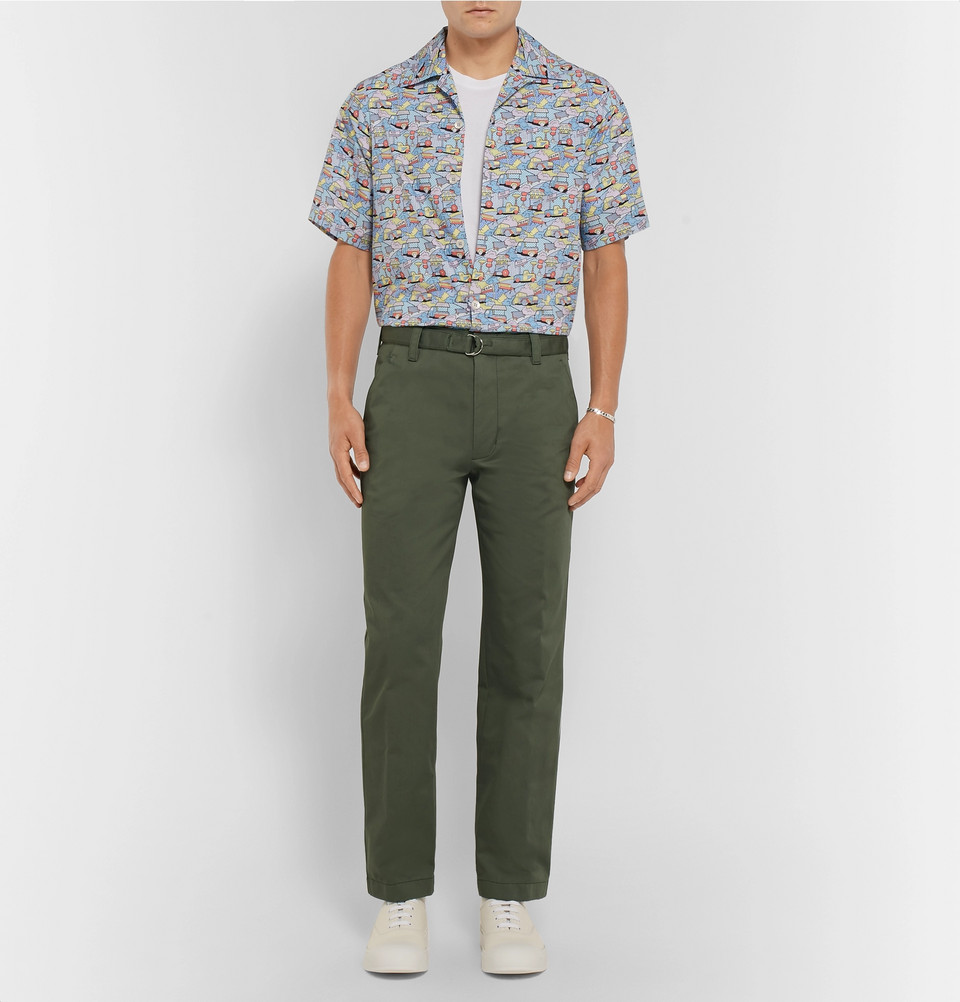 From afar, these may not seem like the most interesting looking trousers one could expect to attach the name Prada to, but these are a great pair of smartly tailored military-inspired trousers, pleated, in a army-green cotton with an adjustable D-ring belt, providing enough detail to catch someone's eye twice. If you want to flex without outright flexing, these are a solid pick and would go with most fall-inspired fits. Wear 'em with low-top sneakers, or cuffed with some combat boots.
Palm Angels
In their typical bold and brash style, Palm Angels crashes together classic trouser material with a modern, track pant silhouette. Constructed of wool-twill, these loud, plaid trousers are cut sleek enough to wear as a statement piece while going out, but comfy enough to skate in (if you're into skating in $800 pants, that is.)
Comme des Garçons
If you're going to own a pair of wide trousers, opt for something from those who do it best. From 100% wool gabardine, to linen, to tartan, designers like Comme and Yohji have been pioneering and perfecting the wide silhouette for decades. If you're looking to "expand" (haha) your trouser selection this fall, look no further.
Enfants Riches Déprimés
As Fall rolls around, we'll continue to unabashedly break out the wool. Enfants enhanced what would be a pair of understated black wool trousers with a detachable suspender strap detail, cargo pockets and a slightly cropped fit in a sartorial meets skater kind of way. Trousers that blend utilitarian motifs with typically "dressier" materials are becoming more commonplace, offering multiple ways to wear the same pair of pants. Here's a similar pair from Off-White.
Acne Studios
Acne Studio's smart "Boston" fit gets the check treatment, with an appropriate-for-Fall brown, tan and green check pattern to boot. With 100% wool construction and a signature tapered fit, the Scandinavian brand consistently proves their mastery of tailoring - this pair of trousers is no exception.