Designer Profile: Maison Martin Margiela
It's a hot summer day. You wake up in the morning and decide to throw on an oversized rock t-shirt, some ripped jeans, and before you decide on what shoes to wear, you quickly check Jerry Lorenzo's Instagram page to see what shoes he wore last. Ah, the Y-3 Pure Boost ZG Knit, perfect. You step outside and suddenly it hits you, "wait, am I wearing what I'm wearing because a well-known fashion figure wore it, or because I genuinely like it?" The thought quickly leaves your mind when you see that your crush liked your #OOTD picture on Instagram.
In a world where contemporary fashion is often dictated by what other influential figures are wearing, it might come as a shock to some that one of fashion's most influential figures lived in anonymity. Of course, I'm referring to none other than Martin Margiela.
To say that Martin Margiela simply influenced a portion of contemporary fashion would be quite the understatement. Martin Margiela, born on April 9th, 1957 in Genk, Belgium, would go on to become known by a variety of names in the fashion industry, most commonly referred to as "fashion's invisible man;" for good reason too. Refusing to be photographed and interviewed, Martin was more than simply a fashion designer, he was a visionary that aimed to express ideas of non-conformity and deconstruction through the garments produced by a "faceless team" rather than relying on mainstream appeal. In fact, the only identifiable factor of his clothing would be the white label held together by four white stitches visible on the back of unlined garments. Fun fact: these labels were actually meant to be cut off to make the clothes simply that, clothes. As a result of taking his media-given title seriously, there are very few photos of Martin circulating the internet, but if you stick around until the end of this article, you might just get to see the ever-so elusive creator in all his glory.
A graduate from the Royal Academy of Fine Arts in Antwerp in 1979, Martin is often mistakenly referred to as part of what's known as "The Antwerp Six," a group of designers that graduated from the Royal Academy in 1980, credited with bringing fashion outside of London, Milan, New York, and Paris. This group consisted of designers; Ann Demeulemeester, Dirk Bikkembergs, Dirk van Saene, Dries van Noten, Marina Yee, and Walter van Beirendonck, so all things considered, not necessarily a bad crowd to be accidentally associated with. Despite having graduated a year before the Antwerp Six, Martin is considered an honorary member because of his influence and work. After graduating, Martin would go on to work for Jean Paul Gaultier in 1984 as a design assistant before venturing off to create his own collective in 1988 under the name Maison Martin Margiela (MMM).
The collective's first introduction into the world of fashion through their Spring/Summer 1989 collection in 1988 was unforgettable. During a time when fashion shows were presented in the usual routine of models walking down the runway while music played in the background followed by the designer's bow at the end, MMM's fashion show had its models walking down a white runway covered in red paint with their faces covered. Imagine if Stephen King's Carrie had its final act take place at a fashion show rather than prom, but without the murderous rampage. Each model was sporting a unique set of clothes that included the likes of an evening gown fashioned from a butcher's apron, as well as the split-toe Tabi boots, boots shaped to resemble hooves, inspired by traditional Japanese socks. I know what you're probably thinking, "were drugs involved in the process?" Perhaps.
In early 1989 for their Fall/Winter 1989 collection, the same red-stained cloths used for their previous show were seen fashioned into waistcoats, an act that would label Martin as a conceptual, innovative, and rebellious designer during a time when fashion was very conservative and conformist. It's a wonder why people don't use Martin as an example with regards to the importance of recycling and reusing for both practical and creative purposes. Now, while both of MMM's shows had shocked the world in an unexpected manner, the Maison's third show is widely renowned as a "game-changer."
In autumn of 1989, MMM showcased their Spring 1990 collection in a local playground on the outskirts of Paris in which its attendance was on a first come first serve basis. As a result, among the editors, boutique owners, and fashion students, local families and the schoolchildren that used the playground were invited to the event. Due to Martin's alleged dislike of "pretty printed invitations with calligraphy," the invitations for the show were actually handmade by several schoolchildren who were given the freedom to design the invitations as they interpreted the concept of the show, the result of which was 500 unique and hand drawn invitations. As amazing as the premise for this show was, what made it memorable was the fact that by the end of the show, the schoolchildren in attendance ended up walking on stage with the models. The nature of this show would go on to influence a new wave of designers, one of whom was Raf Simons, who is quoted as saying "As a student I always thought that fashion was a bit superficial, all glitz and glamour, but this show changed everything for me. I walked out of it and I thought, 'That's what I'm going to do.' That show is the reason I became a fashion designer." Raf Simons also says that he was brought to tears during the show. Granted, I did too, but more so because I wasn't around for this fashion revolution. Either that, or I was tired from going to sleep at 3AM every night. For further reading into how incredible this show was, head over to Business of Fashion, where they put together an article centred around the testimonies of those involved in one way or another with the show, courtesy of The Gentlewoman.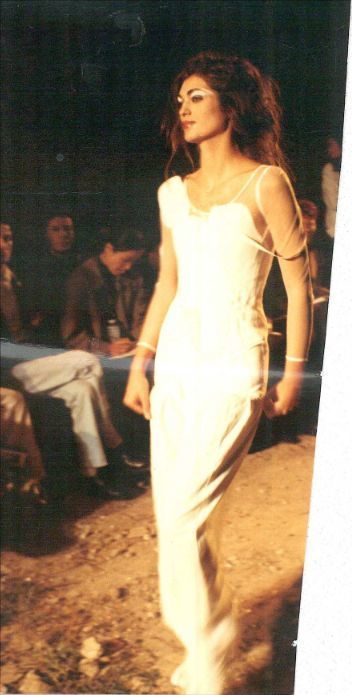 The same year as MMM's Spring 1990 show, Martin himself was awarded the first ever ANDAM award, a fashion accolade awarded by the Association Nationale pour le Développement des Arts de la Mode. Since then, MMM has redefined the definition of luxury. From being associated with a grandeur lifestyle, MMM was able to introduce luxury as the byproduct of what one can only describe as skilled craftsmanship. Rather than the traditional dresses and waistcoats for women that were quite common in every woman's wardrobe since the House of Chanel introduced the "little black dress" in the 1920s, MMM would go on to construct dresses using unorthodox shapes and materials ranging from plastic tags to synthetic wigs, the likes of which I can only imagine feel like being hugged by 2011's Nicki Minaj.
Although the Maison began with womenswear, it wasn't until 1998 when the first men's wear collection was revealed along with the mysterious "Line 10" (more on the different lines later below). With creations that included inside-out cargo pants and mismatched suit jackets and trousers, it was clear that there was both artistic merit and special crafting techniques at play. Although the Maison has always gone on record by stating that "fashion is a craft, a technical know-how and not, in [their] opinion, an art form," MMM has been part of several museum exhibitions, a notable example being the exhibition that was held at the Somerset House in London celebrating MMM's 20 year anniversary, appropriately titled, "20."
True to the nature of the Maison, the actual Maison ("house" in case you never took French class like we had to here in Canada) is a testament to their embracement of imperfections and the passing of time. In 2008, AnOther magazine was able to peer inside and took several photos of the usually obscure fashion equivalent of the Garden of Eden, which you can view all of them here. In typical MMM fashion, the entirely white emulsion painted house was meant to show all the wear that the paint will endure as a means to tell a story. It also served a practical function, as any old furniture that was initially collected could simply be painted white in order to have everything coherent. And if you think white is a difficult colour (or amalgamation of) to keep clean, think about this, every designer has a responsibility to paint their desks and whatnot. This means that while some areas may be brilliantly white, other may looks like the set of a paintball battlefield. An incredibly dope concept, if you ask me (which yes, I know you're not).
Despite the Maison's anonymity and desire to remain hidden in the shadows, in 2002, OTB (Only the Brave) Group acquired a majority stake in MMM, resulting in significant changes to the Maison's infrastructure. In an interview with WWD (Women's Wear Daily) in 2004, Renzo Rosso, founder of Diesel and OTB, was open with his desired financial goals for MMM and the different approaches that would be made in order to achieve it. This would include the expansion of several more lines, as well more "communicating more aggressively," which sounds like what you would describe an argument with your girlfriend after the matter, but is really the Maison's way of not explicitly advertising to its customers. It was around this time when Martin was rumored to leave allegedly because he disagreed with the direction that Rosso was taking the Maison in. For MMM's 20th collection, Martin finally confirmed his departure and left behind a faceless team of designers to continue creating until October 2014, when designer John Galliano took over as creative director. The following year, MMM silently dropped "Martin" from the name, resulting in the newly named Maison Margiela, which signified a slight change for the Maison. Thus far, Galliano has kept with the spirit of Maison Margiela's deconstructed ready-to-wear clothing, displaying a phenomenal show for the Maison's Spring 2016 Artisanal collection that paid homage to the Maison's roots, and even going as far as to not give out public speeches and interviews before and after the show.
During the time period after Martin had left the Maison, a pretty significant collaboration took place between MMM and a world-renowned fast fashion company. Here's a hint for you, it's a popular shopping spot for several students. If you guessed H&M, 10 points to Gryffindor. That's right, back in 2012, MMM teamed up with H&M for a highly publicized collection consisting of several archived MMM designs. This collaborative effort justifiably received mixed reactions for stimulating several conflicting feelings. MMM suddenly working with one of the world's most well known fast fashion retailers went against pretty much everything Martin Margiela worked to establish when he first appeared (sort of) on the fashion scene. And yet, the fact that this also allowed several more people to learn about MMM and their origins opened the doors for a greater appreciation for their history and influence, but also seemed to take away from its exclusivity and authenticity with regards to the grunge techniques MMM was known for. The collection itself was quite decent, and provided a great opportunity for new people to learn about MMM, but the ideals that were contradicted understandably brushed some people the wrong way.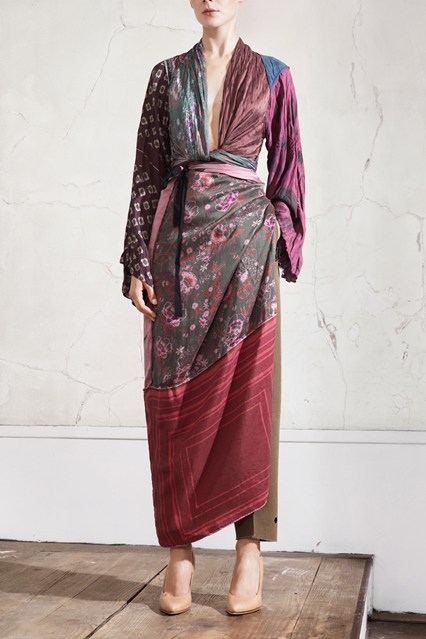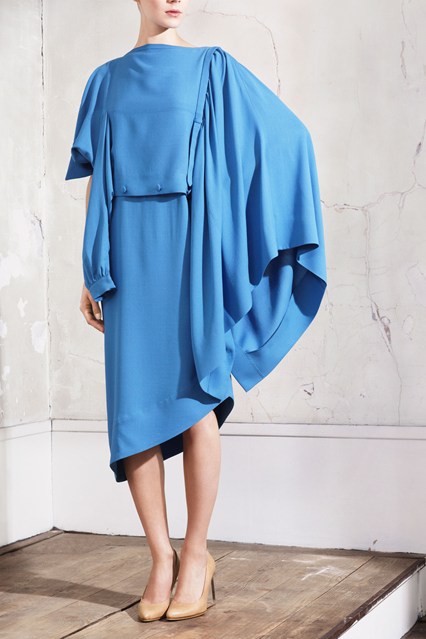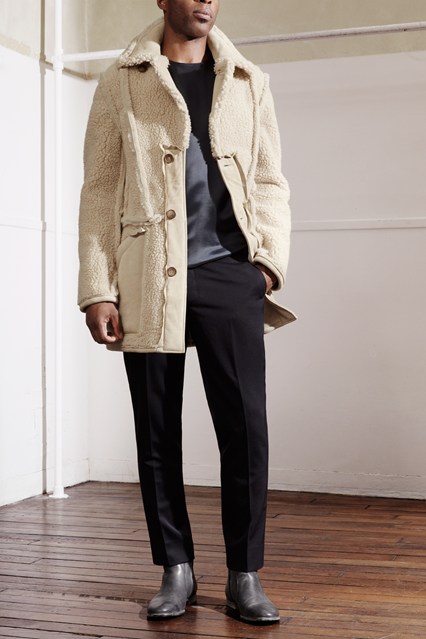 Now that we're caught up with the history of MMM, let's get into how all the current trends you see now aren't necessarily new, but rather an old fashion statement that came back from the dead. For example, before YouTube even existed and we had legendary comments that compared contemporary fashion to shopping at Goodwill, The New York Times actually referred to the Maison's Fall 1995 show, which included a seemingly sudden increase in uplifting colour palettes, as "brightening the stark, almost Salvation Army mood of many of the clothes."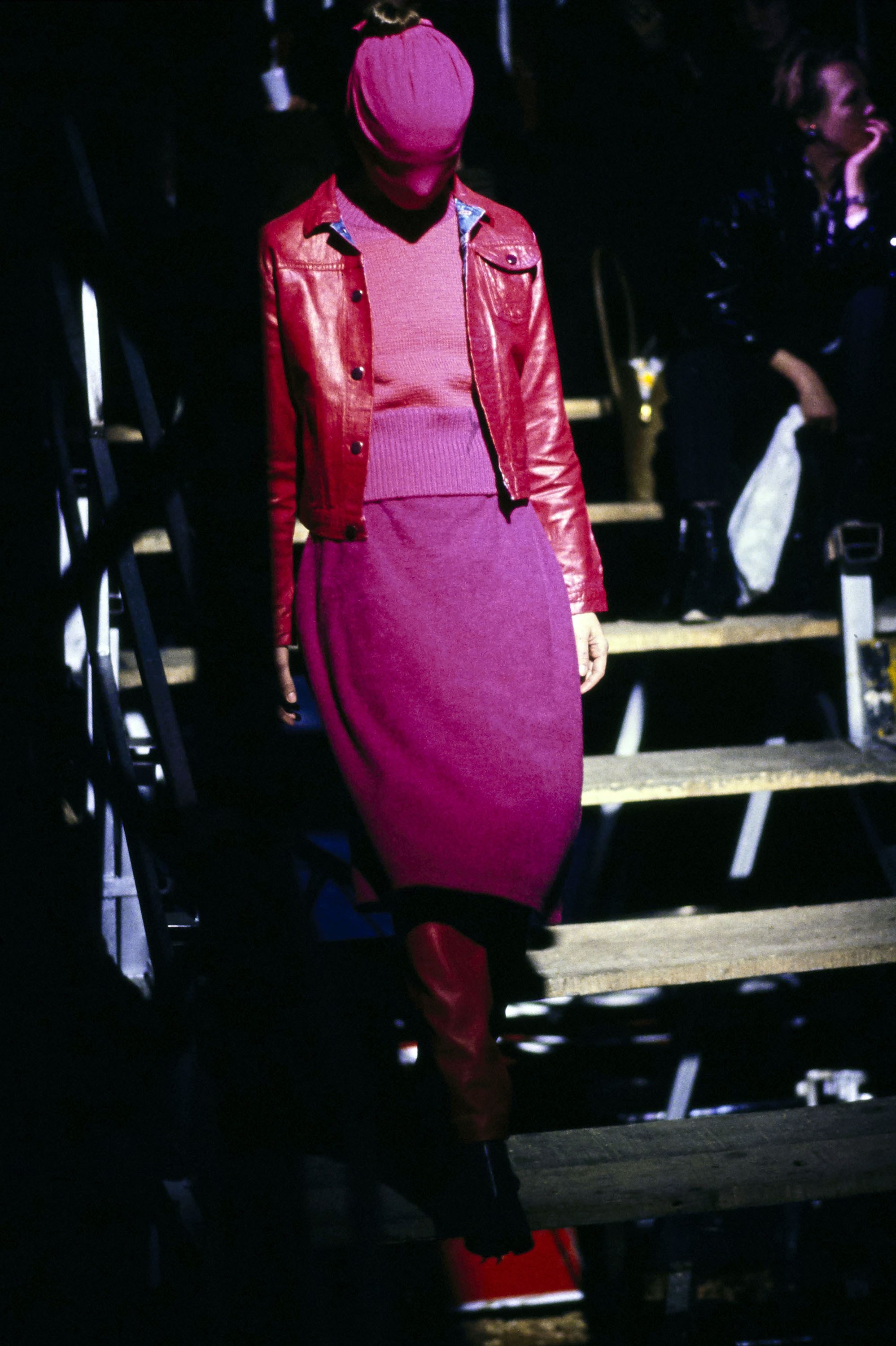 Notice anything familiar from this show? The most notable accessory used for this presentation was the facemask wore by all the models, one that would be reinterpreted years later for Kanye West's 2013 Yeezus tour in a bedazzled fashion. As a matter of fact, MMM actually designed Kanye's tour wardrobe consisting of outspoken garments. Legend has it, you can still hear the moaning of the anti-Kanye folks as they began to liquidate their Margiela wardrobes; not that it negatively impacted the collective in any way.
While we're on the topic on Kanye West, I have a question for the hardcore Kanye-cosplayers out there: do you really think he, along with Jerry Lorenzo, founder of Fear of God, brought about a new trend consisting of clothing of oversized proportions and rock tees? Well then, I'd like you to view the following images from the Maison's Fall 2000 and Fall 2001 collections, respectively:
The point is, Martin Margiela is pretty much the grandfather of contemporary fashion. A good example of a contemporary brand influenced by MMM that has suddenly seen an exponential growth in popularity is Vetements. Vetements has had its fair share of shocking clothing that has included the death metal hoodie, their Snoop Dogg tee, and my personal favourite, their DHL tee. Yes, a fucking DHL tee. And it's not like Vetements is cheap either, the prices are rather exorbitant. The Snoop Dogg tee I mentioned for example, would have run you $900 USD. I'm honestly convinced that Vetements is a social experiment taken too far and that Ashton Kutcher will show up promoting a new season of Punk'd.
And this is where my comparison to MMM comes in, Vetements is essentially disrupting the fashion industry by taking the piss out of the conformity, as Martin did in the 90s when he was at the forefront of MMM, albeit much differently as far as their approaches and ideals go. In fact, Demna Gvasalia, head of Vetements, actually worked with the Maison after Martin's departure for about 3 and a half years before leaving. While definitely having been inspired by MMM, along with Marc Jacobs and Nicolas Ghesquière, Demna has his ideals set with regards to how he views the industry and its business. For a full interview with Demn, be sure to head over to the Business of Fashion.
Anyhow, I did mention I'd elaborate further on the different lines found at Maison Margiela, so here is an easy list to help you out with your future Margiela purchases because I did my job right, you'll want to be a part of the Maison's movement. If not, then my peers will probably roast me. Keep in mind that as with all things related to MMM, the list will appear incomplete (yes, the missing numbers are intentional):
Line 0: The Artisanal collection consisting of handmade garments for both men and women constructed using only the finest of unorthodox materials, characterized by the use of a plain white label.
Line 1: Women's Collection
Line 3: Fragrances
Line 4: Women's Wardrobe/Basics
Line 8: Eyewear
Line 10: Men's Collection
Line 11: Accessories
Line 12: Jewellry
Line 13: Objects & Publications
Line 14: Men's Wardrobe/Basics
Line 15: (Now Defunct) Mail Order/Garments Ordered Through Catalogue with the company, 3 Suisses
Line 22: Footwear
MM6 (formerly Line 6): Women's Diffusion Line
Now, as promised, the man behind the madness. The man who managed to turned the fashion world upside-down by simply doing things a tad bit (read: very) differently. The man who unexpectedly served as womenswear director for Hermès from 1997-2003, a period in the fashion house's history that people hold in high regards. The man who would refuse to be photographed, here is the rare picture of the god himself:
Granted, you could have Googled it yourself, but I feel as if our time together brought us closer, don't you think?
Anyhow, if you're tired of reading my incoherent rambling, please enjoy the following short video that YOOX Group made on Martin Margiela through testimonials.
As you can tell, MMM paved the path for not only contemporary fashion, but also the fashion industry's current state (some dude wrote about that here by the way). From creating outerwear out of gloves to putting on the wildest fashion shows, one of which actually involved the audience to sit in seats in order of their perceived importance, the only way one can really describe MMM is; they just didn't give a fuck and the results are beautiful.
Hope you enjoyed. 'Till next time... assuming my debut didn't scare you away.
Information and photos used courtesy of the following sources: The New York Times, Vogue Magazine, The Fashion Commentator, Third Looks, Women's Wear Daily, The Independent, The Business of Fashion, and Dazed Digital, with information and photos from The Gentlewoman, Maison Martin Margiela 20th Anniversary Monograph, The Official Maison Margiela Facebook Page, and the video, The Artist is Absent... wow that's a lot of reading.
Cover photo shot & edited by Jason Azanza. Follow him on the 'gram @nosvj, he takes some really cool pictures.
Special shoutout to Jackson Ray and Vincent Drayne for the extra help.