Designer Profile: Rick Owens
Rick Owens has been one of the most popular menswear designers in the game for the past few years. He created an entire new genre of fashion that has influenced many designers. As soon as A$AP Rocky coined "Raf Simons, Rick Owens usually what I'm dressed in," the designer has been at the pinnacle of modern day menswear, but Rick was killing the game long before A$AP Rocky was mentioning him in verses.
Rick Owens attended the Otis College of Art and Design, but later dropped out and took up Pattern-making at the Los Angeles Trade-Technical College. Owens began his own label in 1994, and sold exclusively to Charles Gallay, which kept Owens in business for a couple of years.
In 2001, Owens partnered with Eco Bocci Associati to take his brand internationally, then moved Owenscorp's means of production to Italy. Considering the quality Italy manufacturing can bring, this was a key move for the brand.
In 2002, Anna Wintour assisted Rick Owens' first fashion show in NYC, which helped him gain notoriety as being one of America's best new designers. Shoutout to her for putting my mans Rick on to the lames of the fashion world.
In 2003, Rick Owens married Michele Lamy, who's considered to be the muse of the Rick Owens label. Lamy is known for her over exaggerated jewelry, gold teeth, and overall sense of style, and listen, she's the coolest person on this Earth. Like, yeah, she looks about 100 years old, but I promise, she's cooler than you by a long shot, my guy. She and Hubby Rick moved to Paris the year they got married, and have lived happily since.
Below is an interview with Owens and Lamy in their Paris home. How sweet and goth.
In 2006, Rick Owens launched his "more affordable" line, entitled DRKSHDW, which is still pretty fucking expensive lmao. DRKSHDW is his diffusion line, which features men's/women's clothing, sneakers, and accessories. In my opinion DRKSHDW is a little more wearable everyday than mainline Rick Owens collections. DRKSHDW is pretty consistent in providing quality basics, as well as statement pieces such as the DRKSHDW parka. And lemme tell you, I fucking need this parka in my life. The only problem is that it's like 2 racks. But other than that, DRKSHDW is pretty fucking dope. I have like 4 DS pieces, and I am def tryna cop some more (send me links). You can see some of the best items from Rick Owen's DRKSHDW collection below.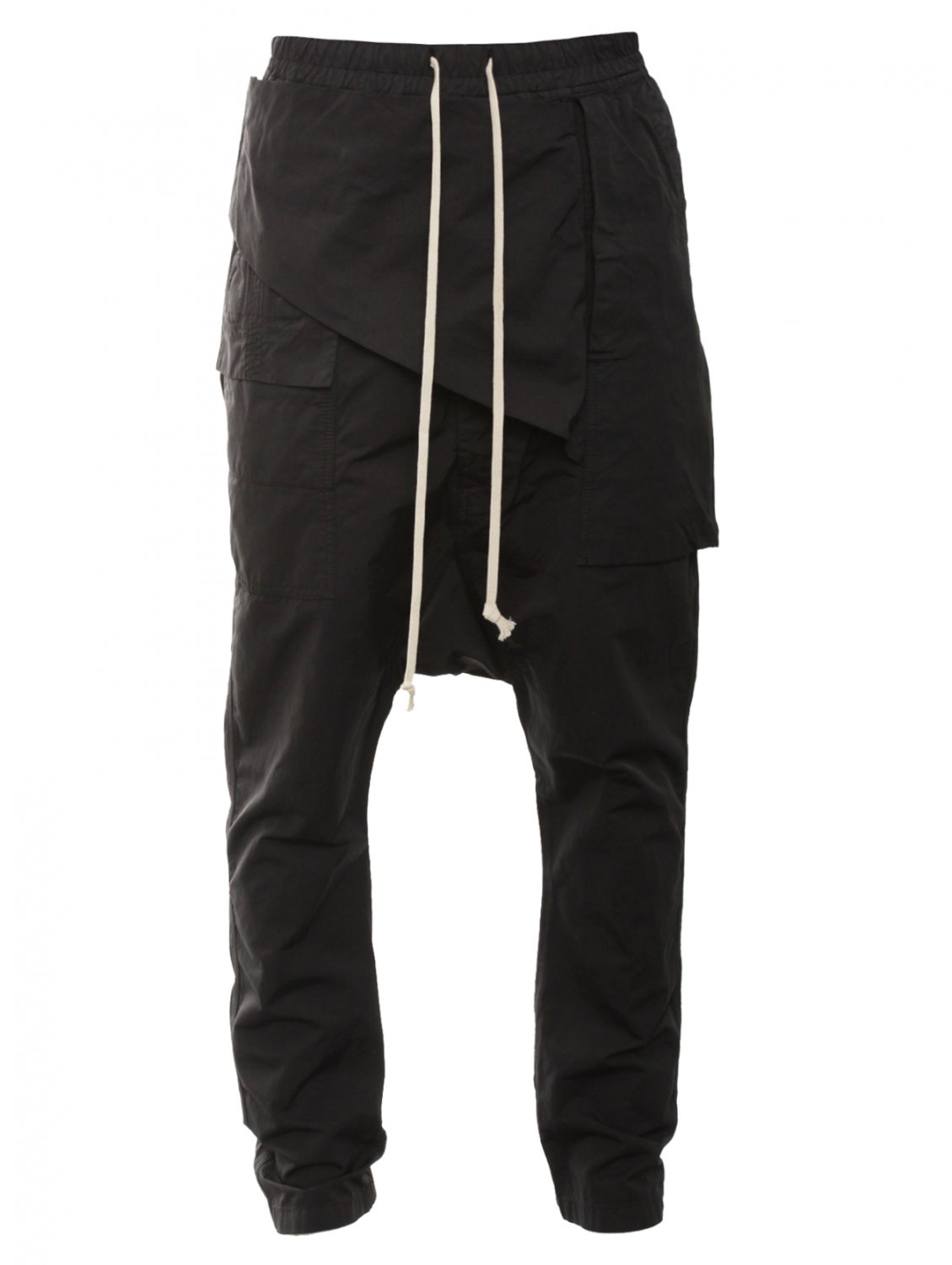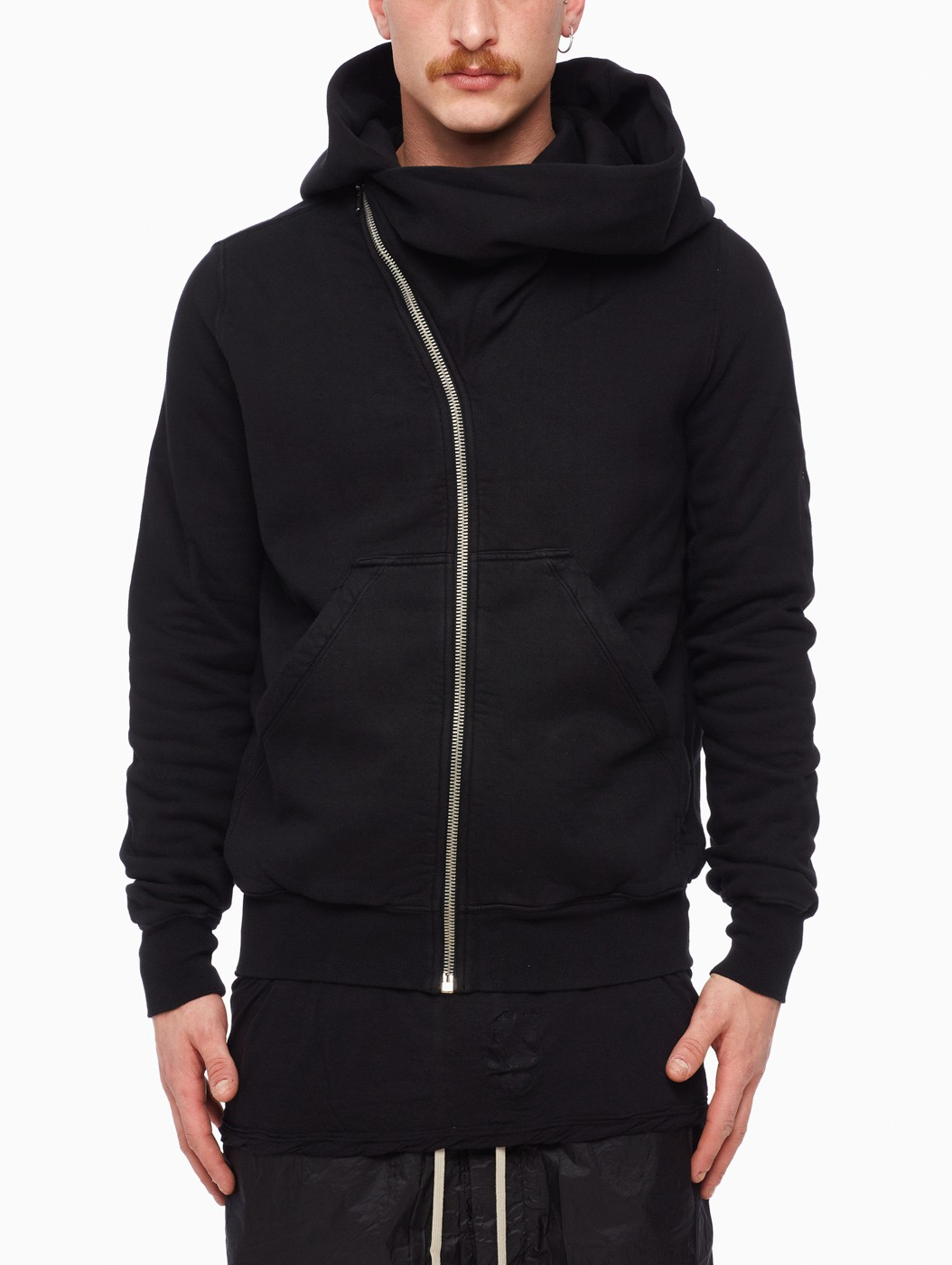 In 2008, Rick Owens sought to make a mockery of high end sneakers by creating the ultimate meme sneaker. The Rick Owens Dunk was a frankenstein version of the Air Jordan 1 with Puma inspired stitching (as you can see on the swoosh) . Nike immediately sent Owens a cease and desist letter to stop making his sneaker, because of its similarity to the iconic swoosh logo.
Owens altered the design in order to keep a similar silhouette, which is what we know today as the "Geobasket." I know all of you mother fuckers know what a Geobasket is, because all of you have owned a pair. These shits got played out so fast. Everyone rocked a pair in Soho with some Supreme tee or some shit like that. That being said, I still love these sneakers, and I'll always want a pair of OG Dunks because "Fuck Nike."
Rick Owens is regarded as one of the best footwear designers in the industry. His collaboration with Adidas has been widely popular, and has brought us some of the most eye catching designs in footwear. I personally love that you can look like you have Rhino feet, but also look like you could fly straight up into the sky at any moment. These sneakers are the definition of T-T-Turbo and I would like to own every pair. Below are some his most famed designs with Adidas (2013-2016).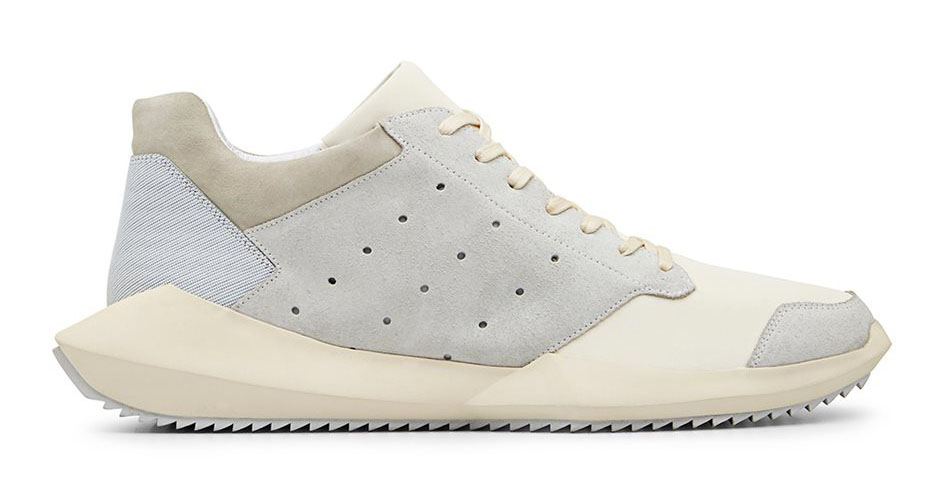 Apart from his wild footwear, Owens has been known for his unconventional runway show antics. There is not a more entertaining show to attend at Paris fashion week. His FW15 collection, entitled SPHINX, is the reason he's sometimes referred to as "Dick Owens." At this show the models literally had their dicks out while walking down the runway. This was actually one of my favorite collections, because that's just so fucking funny. Like, Rick did not give a fuck at all, which is one of the reasons I love him lmao. Check out it out below.
Another unconventional show that made headlines was Rick's SS 16 Women's collection, CYCLOPS. Twitter blew up following this presentation, which featured models carrying other models as backpacks, or rather human backpacks. Basically, Rick was just paying homage to 69ing, which is pretty #lit. The morning of this show, I woke up and checked Twitter (as I do ever morning) and saw videos from this show. There were thousands of comments freaking out about this show, and I began getting text after text from friends asking wtf Rick was doing.
Rick Owens in Pop- Culture
As mentioned before, this is the song that brought Rick Owens to the mainstream through recognition by the hip hop audience.
Rocky still raps about Rick Owens today. Most recently in his song "Excuse me," which he raps that he spent $20,000 on Rick Owens while shopping at Barney's, which is probably, what, like, five pieces? LMAO.
Complex magazine posted a hilarious piece about what The Modern Day Fuccboi looks like, and one of the looks (above) was featured. The "Rick Owens Disciple" look has become very popular due to Tumblr and other media outlets. If you don't own any Rick Owens sneakers, do you even Soho bro?? For instance, this picture (below) "has the entire Rick Owens community by the neck"- Ian Campbell. It has probably been reblogged a billion times, and has influenced every Rick Owens fan in some sort of way.
Rick Owens has made a huge impact on the fashion industry as a whole, especially the menswear culture today. There's just something about wearing black, drapey clothing with outlandish sneakers that makes you feel badass or scary, whichever you're going for. We at the FMF office have great admiration for Rick, and what he's done for fashion. He's probably the most badass designer out there. We've decided that no one in the fashion industry could take Rick Owens in a fight, because he probably works out more than he designs clothing. Here's a short video that the New York Times did on the legendary designer in his studio that will give you just a little more a personal view of Rick Owens. Thanks for reading.