Music in Fashion: John Mayer
Let me take you back to where it really began. It was Halloween October 31st, 2015 and I was about to see the remaining members of The Grateful Dead perform alongside John Mayer in a new variation of the band called Dead & Co. Obviously, I sort of missed the "peak" Grateful Dead days, but even the untimely death of Jerry Garcia wasn't about to stop me. The show took place at Madison Square Garden, marking the bands first return to New York City in nearly decades. I had my jays pre-rolled and was ready to bump to songs that lasted at least 15 minutes—it was going to be divine. My attention was quickly diverted the moment John Mayer stepped on stage. My man Johnny was rocking a red linen aloha shirt from none other than Kapital. How did I know? The shirt had an absurd number of buttons on the placket, a quick indicator that it could only be a product of Kapital's outlandish nature. The guitarist kept "rocking" those Japanese vibes for the remainder of the tour—stunting in other rare garbs that I could only dream of owning—reminding me that John Mayer really is one of the most stylish dudes alive.
Yes, he's low-key an ego maniac. Yes, his pop songs sound like a horrid combination of J.Cole and Justin Bieber. Nonetheless, he is perhaps one of the greatest guitarist of our generation, and above all else, my mans knows how to stay killing the game. In his album cover for Paradise Valley, The singer/songwriter was completely decked out in head to toe Visvim, including his signature Tibetan robe made from natural indigo and crushed up ladybugs. To the 14 year old me, it seemed like a bit much, but now I'm truly awestruck by the godliness of John Mayer (no joke). The funny part was that John Mayer was actually way into this shit before Visvim even came stateside. The musician can be seen rocking FBT's all the way back to 2005, and yes, that's before Kanye wore them. Mayer has since assembled perhaps the largest collection of Visvim in the world (held in a storage space in California) and has cultivated an inevitable friendship with the founder of the brand, Hiroki Nakamura, who's credited as a stylist in Paradise Valley.
However, the musician's interest in fashion stretches far beyond workwear. He can also be seen rocking selections from some of Japan's premier labels including technical outerwear from ACRONYM, streetwear from Hiroshi Fuijwara's Fragment and, "Anything from the Harajuku vibe." Of course, just like any other fashion head, Mayer's interest in textiles resulted from his infatuation with sneakers. To all kids, sneakers are an extension of adolescence, and to Mayer it was no different. Him and his friends actually wished to create a market for buying and selling sneakers, however, it looks like they were WAY ahead of their time. Now, that second-hand market for sneakers is thriving and John Mayer is WAY passed it.
Amongst sneakers, Mayer is still entrenched in traditional street cultural, a bi-product of all children that grew up in the 90's. In the early years of his career, John took advantage of his newfound publicity to collaborate with streetwear brands like ALIFE, Reigning Champ, and KAWS. "I still really respect the 'sneakerhead' culture, and I still appreciate what I see. I think we're in a new generation of that culture, and it's important to hand youth culture off to the actual youth and let it be their thing," says the wiser, more seasoned John. "I still have what I consider the timeless stuff to be. A KAWS collab Nike Air Force 1 is like a Nirvana demo cassette. It's a huge part of an artist's history, and that's valuable for life." Since his streetwear days, John has more or less moved passed street culture to indulge in something he truly loves dealing in. It's a classic hypebeast turned fashion bro story, one that I'm sure most of us could relate to.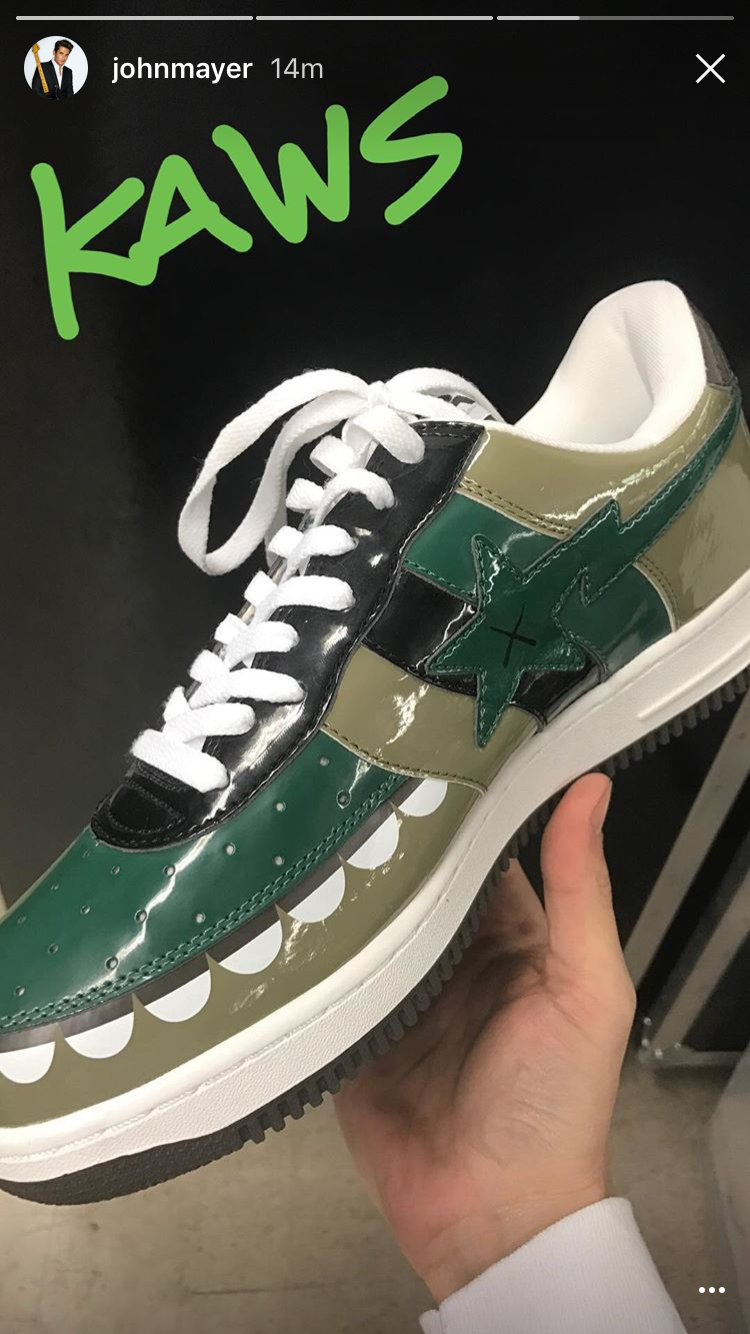 His initial interest in Japanese fashion in fact came from another musician—rock gawd Eric Clapton. I know right? Who would've thought the king of normcore fucks with Visvim. Clapton is the one responsible for putting Mayer on by introducing him to Hiroshi Fuiwara and other players in the Japanese streetwear scene. Mayer would later meet Kazui Kuraishi of BAPE and THE FOURNESS, who brought him to F.I.L. and introduced him to Visvim. It was a match made in heaven. Mayer's eccentric americana-folksy vibe blended perfectly with the obscurity that Nakamura and other Japanese designers brought to the table.
It seems like fashion in 2016 was once again dominated by hip-hop culture, extenuating the intersection between street culture and high fashion. While this is nothing new, it is always refreshing to see a plethora of musicians, no matter how old or young, that continue killing it regardless of their speciality in a certain genre of music. John Mayer has curated a niche style of dress that accurately encapsulates his ethos as a singer, songwriter, musician, and overall legend. That being said, Mayer has no issue integrating himself into stranger communities, as legend has it that John Mayer may send an occasional fit pic or two to the king of youth, Ian Connor. Personally, I'm just waiting for Mayer to hop on the archival fashion scene. For the self-proclaimed purveyor of Visvim, Kapital, and ACRONYM, it's just a matter of time before he rides the Undercover/N(N)/Comme Homme wave, a day that I'm sure many of us are looking forward to.